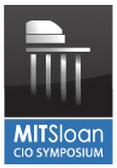 More than 800 professionals attended yesterday's 2010 MIT Sloan CIO Symposium.
Some notable quotables from throughout the day:
Batting .500 with innovative ideas is hitting the ball out of the park.  Batting .200 isn't bad.   Fail fast. (Roy Rosin, Intuit)
With stability at the center of your systems, you can invite "instability."   (Jeanne Ross, MIT CISR)
Enterprise 2.0 collaboration can become its own silo if not integrated into other systems (Greg Hansen, AMD)
Keys to data interoperability: (1) data availability, (2) ease of data access, (3) relationships to other data.  (Dr. Ed Curry, DERI)
Standardization of technology + streamlining/simplifying organization structure, led to innovation and strategic vision.  (Anne Margulies, CIO, Commonwealth of MA)
Are your organization's decisions based on data? Or are they based on HiPPO (the Highest Paid Person's Opinion)?
The Internet of Things (IOT) panel was perhaps the most interesting session.  Panelists included: Dr. Michael Chui (McKinsey Global Institute), Robert LeFort (Ember), Sanjay Sarma (MIT Auto-ID Center), Bob Metcalfe (Polaris), Mark Roberti (RFID Journal).  Some interesting factoids:
Ember:  Key applications are usually an intersection of  "saving money" and "saving the planet."
Ember:   Just shipped its 10 millionth node, and recently became profitable after multiple years.  Took them seven years to discover that smart readers will likely be the killer app for ZigBee.  But putting intelligence into other household objects will likely be an even bigger opportunity.
IOT will allow us to see, track and manage things which we cannot see, track and manage today.
StickyBits allows every physical object to have its own website, and allows people to add comments regarding that object.
Infinite Power Solutions creates those tiny batteries which may be necessary to power IOT tags.
GPS, RFID and Barcodes (and other tagging technologies) will all coexist and each be useful/applicable for different applications.
There is always an organizational challenge for the deployment of this (or any other) technology.  Existing players/workers may be threatened, and resist the new processes.
The most important thing to do with RFID data is to throw it away.  It's value has a very short shelflife.  Use it or lose it.  Only need to act on the exceptions.
Adding RFID metadata to things like video will yield new value.
It was mentioned (unverified) that one retailer (Harrods?) already allows a consumer to type in an ID for a purchased meat product, and see the entire value chain history of how that product was produced, back to an individual cow.  (Another example might allow a consumer to track the history of a bottle of wine, and verify that the temperature of the wine bottle stayed within a specific temperature range for its entire lifespan.)
The cloud computing panel had a number of interesting insights:
Even Washington is  on the cloud bandwagon:  See the GSA's apps.gov site.
Yahoo has 350,000 – 450,000  servers in its cloud.
SalesForce.com needs only 2,000 servers to support its 72,500 customers (which nets out to about 36 customers per server).
InvoiceCloud is an example of a service which should be useful to firms in all industries
In comparing the real costs of  SaaS to other solutions, it should be remembered that you cannot depreciate SaaS expenses.
50%  of the transactions that come into salesforce.com come via API calls  rather than from the salesforce user interface.
For some applications, you need to be aware of where (i.e. what country) your cloud data is stored, since, in some countries, your data may be subject to search and seizure.  (Some vendors address this issue by ensuring that the data primarily resides in one specified country, and is then distributed as encrypted data when access is needed.)
To address the organizational transformation issues which may be encountered when deploying cloud solutions: start with small pilots, advertise the new roles which will be created.  (By moving to the cloud, the business can change its focus from the underlying technologies to the actual business processes.)
Line of business managers, not CIOs, are often the catalyst to get a company/application onto the cloud.  (For example, Gartner's Darryl Plummer indicated that, of 50 CIOs he interviewed, only 2 knew that an application from their firm was going into salesforce.com, prior to its appearing in salesforce.com.)
Cloud is not a sku you are going to buy, but a state you are trying to achieve (Sanjay Mirchandani, EMC)
The e-health panel had some interesting discussions regarding the application of information technology in the health sector:
It's difficult to balance privacy concerns with the benefits that can be realized by leveraging data.   (William Fandrich, Blue Cross)
Mention was made of the Federal information security management act
Discussion regarding management of personal health records, including discussion of individuals' roles / rights; and the difficulty of transporting patient records between health institutions (such as when a doctor moves to a new hospital) even when patient consent is available.
In addition to issues of ACCESS to records, it may also be a challenge to ensure that the data is UNDERSTANDABLE.  This may require a sharing of semantic meaning to avoid drowning consumers in meaningless data.
Processes must be put in place to allow (and enforce) chart access control: must declare (and verify) reader's  relationship to patient.
More info about the conference can be found at the MIT CIO website, twitter stream and LinkedIn group.
Additional TKG contact info:
Web:  www.TKGweb.com,  Twitter: @tonyparham